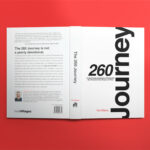 Day 175
Today's Reading: Philippians 1
H. B. Charles Jr. said these poignant words about answered prayer: "It may seem God did not answer prayer when the real issue may be that we did not like the answer." Today's chapter discusses answered prayer in the apostle Paul's life. If you don't look closely, you can easily miss his prayer and his answer.
Always remember that our job is to pray and not forecast the answer on how we think it should be done. We leave that to God to figure out. Let's look together to see what Paul was praying throughout his life and how the answer came in Philippians 1. Paul had a great desire to preach the gospel in Rome and made it a matter of prayer. Listen to some of these passages that reveal his heart:
Now after these things were finished, Paul purposed in the Spirit to go to Jerusalem after he had passed through Macedonia and Achaia, saying, "After I have been there, I must also see Rome." (Acts 19:21)
He wrote to the church in Rome and told them of his desire and prayer:
Always in my prayers making request, if perhaps now at last by the will of God I may succeed in coming to you. . . . So, for my part, I am eager to preach the gospel to you also who are in Rome. (Romans 1:10, 15)
Paul had no idea how that prayer would be answered. But that wasn't his problem, that was God's problem. Philippians 1 tells us God did answer that prayer. How did it happen? Rome never became his fourth missionary journey on his itinerary, because he got arrested and put in jail. Can you imagine Paul saying, "I wanted to go to Rome and preach the gospel, and now I can't go." And then he was sent to Rome for his trial.
He wanted to go as a preacher but he went as a prisoner. He made it to Rome but he was in chains. He was eager to preach the gospel there, but because of his circumstances, that seemed like a bust—at least in Paul's mind. Remember, we pray and let God figure out the answer.
But then it happened. Paul's prison sentence became the platform. The trial was his answer. God came through. This is Philippians 1:12-14:
I want you to know, brothers and sisters, that what has happened to me has actually served to advance the gospel. As a result, it has become clear throughout the whole palace guard and to everyone else that I am in chains for Christ. And because of my chains, most of the brothers and sisters have become confident in the Lord and dare all the more to proclaim the gospel without fear. (Philippians 1:12-14, NIV)
The palace guards were the handpicked bodyguards of the Emperor Nero. Paul was saying that as a prisoner he was chained to a Roman soldier, which meant the gospel had been penetrating the handpicked bodyguards of the emperor. The gospel was going through the most guarded palace in the world and was advancing. It was going through a palace that was very anti-Christ. Nero persecuted the Christians so harshly and inhumanly, that God decided to bring the Good News through Nero's front door and into his palace.
Listen to Paul's words again: "What has happened to me has actually served to advance the gospel." His prayer was answered and even better than he prayed. He was not only advancing the gospel, it made its way into the elite army. The message was getting to the palace guards. Paul in Rome as a preacher; he was limited, because he was there as a prisoner, yet he was in a place he could never have gotten into—Caesar's palace. And he got to preach in that high-security place for two years!
Paul was in Rome, the imperial city, capital of the world, the seat of the government, and right in the imperial palace—and so was the gospel of Jesus, because God answered Paul's prayer better than Paul could ever have imagined. That's why these words resonate even more on this palace answer from Ephesians:
Glory be to God, who by his mighty power at work within us is able to do far more than we would ever dare to ask or even dream of—infinitely beyond our highest prayers, desires, thoughts, or hopes. (Ephesians 3:20, TLB)
What was defined as an imprisonment was really an answer to prayer. It was beyond the prayer and desires Paul had back in Acts. Sometimes we stop short in our prayers, thinking God did not answer, when the real truth is, He may not have answered it the way we wanted.
One day I was listening to an interview with Luis Palau, considered by many to be the Billy Graham of South America. Luis said in his life he had seen God answer prayer five different ways. Remember these, because you will need them one day, so you can see imprisonment as an answer to prayer just like Paul did. 
God answers, "Yes, I thought you'd never ask." We often tell everybody except the Lord that we need this, or we want that. Secondly, "No, I love you too much." That's a good answer to prayer. Many times the Lord answers, "No, buddy. I know better, and I love you too much to give you that one." Number three, "Yes, but not yet." Timing. Number four, "Yes, and here's more." That's the one I really like. The Lord not only answers your prayer, but he throws in some extras. Then fifth: "Yes, but differently from what you thought."
Five ways God answers prayer: 
1. Yes. I never thought you'd ask.
2. No. I love you too much.
3. Yes, but not yet. The timing is not right.
4. Yes. And here's more.
5. Yes. But differently than you thought.