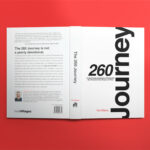 Day 213
Today's Reading: Hebrews 9
I was speaking to a major league baseball player once who was struggling with the idea of death. I told him, here is your anxiety about death, starting with the least and moving to the greatest anxiety:
• The unlived life. You didn't do your bucket list—so many things you wish you would have done. You start to realize what you didn't do and how much time you wasted.
• The regretful past. This is going backward and wishing you could take back words and actions. You wish you would have let more things go, apologized more, spent more time with your kids and your family.
• The gnawing possibility of accountability. This causes the greatest anxiety. It is the eternity issue. Is there a heaven and hell? Am I accountable? Will God judge me? If so, how will God judge me?
The first two on that list deal with mortality. The final item on that list deals with immortality. Is there something after death? That causes people's anxiety to grow as they think, "Before I was only anxious about my last years on earth, but now I'm anxious about what is beyond and forever."
We can brush off dreams unrealized. We can even brush off the stupid stuff we did that we wish we could take back. But eternity is different. Eternity keeps talking to us. And today's chapter gives us a sobering reality check on it: "Every human being is appointed to die once, and then to face God's judgment" (Hebrews 9:27, TPT). Everyone will stand before God, either as our Judge or as our Redeemer. His role is determined by the choice we make on earth.
When CNN cancelled Larry King's interview show in 2010, King began obsessing with his death, becoming aware that there will come a day when he dies. But he doesn't believe in the afterlife, so each day he started taking four hormone pills for human growth, and made plans to have his body frozen so that someday he will live again. He admits he knows "it's nuts," but at least he believes when he dies the potential of him being resurrected someday thanks to cryonics gives him some hope. Larry King says, "Other people have no hope."
Our hope is not in extending life here but extending life on the other side in heaven. Larry King is trying to extend the wrong way. What he fails to understand is that eternity is too long to be wrong.
There's another who doesn't want to face eternity. In The Last Word, Thomas Nagel, professor of philosophy at New York University and an atheist, admits he doesn't want there to be a God:
"I speak from experience, being strongly subject to this fear myself: I want atheism to be true and am made uneasy by the fact that some of the most intelligent and well-informed people I know are religious believers. It isn't just that I don't believe in God and, naturally, hope that I'm right in my belief. It's that I hope there is no God! I don't want there to be a God; I don't want the universe to be like that."
Those words are raw and honest, and I appreciate the professor's candor. But again, eternity is too long to be wrong.
In 1974 Muhammad Ali was set to box against George Foreman for the Heavyweight Champion title. While he was training, a father and his son, Jimmy, came to Ali's training camp, because he wanted to meet the Champ. When Ali discovered Jimmy was battling leukemia, he told him, "I'm going to beat George Foreman, and you're going to beat cancer." Two weeks later, Ali visited the boy, who was dying. Ali told him, "Jimmy, remember what I told you? I'm going to beat George Foreman. You're going to beat cancer."
"No, Muhammad," Jimmy answered. "I'm going to meet God. I'm going to tell Him, you're my friend."
Ali's kindness and name recognition throughout the world has always impressed me. But on the day of judgment, we can't count on name-dropping. The only name that will matter on that day is the name of Jesus. Even the Sportsman of the Century will stand before the true "The Greatest" and bow down.
Paul reminds us that "God highly exalted Him, and bestowed on Him the name which is above every name, that at the name of Jesus, EVERY KNEE WILL BOW, of those who are in heaven, and on the earth, and under the earth" (Philippians 2:9-10). What will you tell God when you meet Him? Can you honestly say when you do, "I know Jesus?"
The Bible says in 2 Corinthians 5:10 that "we must all appear before the judgment seat of Christ, so that each one of us may receive what is due us for the things done while in the body, whether good or bad" (NIV).
How can we be prepared for death? We need to remember that death starts eternity. So as C. S. Lewis reminds us, "Precisely because we cannot predict the moment, we must be ready at all moments."
The saying goes like this: "Never fall in love with anything that can't go to heaven with you. The more important a matter is, the less you should postpone it. So claim the gift of eternal life immediately." Eternal life is a decision—one that cannot be delegated, and one that has a deadline. Today is the day of salvation.