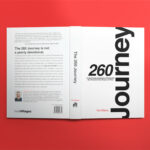 Day 4
Today's Reading: Matthew 4
It seems Jesus can't even towel off and get dressed after being water baptized in the Jordan River before Satan shows up and challenges what Jesus has heard.
We ended yesterday's reading in Matthew 3 with hearing God speak.
Today's reading in Matthew 4 opens with hearing Satan speak.
Remember that in Matthew 3 at Jesus' water baptism, God said, "This is My beloved Son, in whom I am well-pleased." And before Jesus could properly digest and process those words, Satan spoke. Satan's message: Did God really say that?
Then Jesus was led up by the Spirit into the wilderness to be tempted by the devil. And after He had fasted forty days and forty nights, He then became hungry. And the tempter came and said to Him, "If You are the Son of God . . . ." (Matthew 4:1-3, emphasis added)
God the Father had just told him, "You are My Son" (Matthew 3:17). Now Satan was questioning what God had said to Jesus. In essence, he was asking, "Did God really say that . . . ?"
This is not new. Satan was just shooting the same bullet he always does.
Remember back to the beginning of the Bible. In Genesis 3, the devil did the same thing in the Garden of Eden with Eve. His first recorded words pose a question—but not just any question. He asked a question to humans about God. "Has God said . . . ?" (Genesis 3:1). In other words, "Did God really say that?"
This is what you need to know: Whatever God backs, Satan attacks.
Sometimes Satan's attacks are the confirmations that you did hear from God and God did speak to you. As clear as God's voice was for Jesus, Satan's voice came in fast and clear. He did the same to Adam and Eve. He'll do the same to you and me.
No one is off limits—not Jesus, not the first family (Adam and Eve), not a child in the womb, not a pastor's family. No one who follows God and tries to be obedient to Him. C. S. Lewis writes, "The enemy will not see you vanish into God's company without an effort to reclaim you."
Why does Satan come after you? Not because you are bad, but because, as a child of God, you are valuable. If you are a thief, and that is what Satan is, you don't break into abandon houses; you break into places you know has valuable stuff. Thomas Watson puts it this way: "Satan doth not tempt God's children because they have sin in them, but because they have grace in them. Had they no grace he would not disturb them."
A thief will not assault an empty house, but where he thinks there is treasure.
Several years ago Sotheby's auction house in New York City had an auction. Here are some of the items that sold:
• Napoleon's toothbrush: $48,000
• Jacqueline Kennedy Onassis's fake pearls: $256,000
• President John F. Kennedy's wood golf clubs: $750,000
In and of themselves, they had worth, but what made them so extravagantly valuable? Not what they were by themselves, but whom they belonged to. Just as you had worth before you became a Christian, the day you got saved, your value skyrocketed. You just went from being "abandoned property" to being owned by the Creator of the Universe.
Now since you are valuable, you are a target.