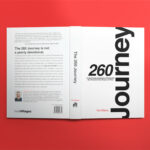 Day 210
Today's Reading: Hebrews 6
An old Presbyterian preacher named Clarence Macartney made a keen observation about airplanes and the Christian life:
"Between an airplane and every other form of locomotion and transportation there is one great contrast. The horse and wagon, the automobile, the bicycle, the locomotive, the speedboat, and the great battleship—all can come to a standstill without danger, and they can all reverse their engines, or their power, and go back.
But there is no reverse about the engine of an airplane. It cannot back up. It dare not stand still. If it loses its momentum and forward-drives, then it crashes. The only safety for the airplane is in its forward and upward motion. The only safe direction for the Christian to take is forward and upward. If he stops, or if he begins to slip and go backward, that moment he is in danger."
This is what the writer of Hebrews is speaking of in today's chapter:
"Leaving the elementary teaching about the Christ, let us press on to maturity, not laying again a foundation of repentance from dead works and of faith toward God, of instruction about washings and laying on of hands, and the resurrection of the dead and eternal judgment." (Hebrews 6:1-2)
Let us press on to maturity. Those are the words for moving forward and upward. It is the challenge of growth for the Christian. Always remember that maturity is not a gift, it is a journey. Inventor Rowland Hill once watched a child riding a rocking-horse and remarked, "He reminds me of some Christians. There is plenty of motion but no progress."
Hebrews 6 is a plea for progress. It seems that these new Christians got stuck. The writer says we should know the foundational principles of faith, repentance, and laying on of hands, and that we should not stall out on these issues but press on toward maturity. As The Message so aptly puts it: "So come on, let's leave the preschool fingerpainting exercises on Christ and get on with the grand work of art. Grow up in Christ" (verse 1).
It is easy to confuse maturity with experience. Experience is a wonderful thing but not always the best teacher. There's nothing more tragic than when the years don't match the maturity.
A group of tourists were visiting a European village and walked by an old man sitting. With a patronizing tone, one tourist asked him, "Were any great men born in this village?" The old man replied, "Nope, only babies."
Every born-again believer starts life as a baby in Christ. Whether the new convert is six or sixty, that person is still a new Christian and needs to grow in the Lord. A baby Christian who has been saved for forty years is a tragedy. God intends for us to grow and mature so we can be a positive influence in the lives of others. Until we learn to dig into the meat of the Word for ourselves, we will never grow.
Amy Carmichael once penned these thoughts:
"Sometimes when we read the words of those who have been more than conquerors, we feel almost despondent. I feel that I shall never be like that. But they won through step by step, by little bits of wills, little denials of self, little inward victories, by faithfulness in very little things. . . . No one sees these little hidden steps. They only see the accomplishment, but even so, those small steps were taken. There is no sudden triumph on spiritual maturity."
That is the work of the moment. Maturity comes through taking small steps, introducing new habits, and stopping bad ones. In one Peanuts comic strip, Sally was struggling with her memory verse for Sunday, when she finally remembered, "Maybe it was something from the book of Reevaluation." I think every time we read the Bible, it should be in the book of "re-evaluation" for us to see if we are growing.
In most homes that have children present, you'll usually find a growth chart. It keeps track of each child's measurements. As a child ages, the body receives messages from the pituitary gland in the brain that tells it to get moving, it's time to grow up. There's nothing the child can do to stop or start the growth, it happens naturally. I wish the same were true spiritually. I wish once we become a Christian, our growth becomes automatic, but it doesn't. There is no special gland to help us grow spiritually as Christians.
What if we did have a spiritual growth chart? If you could measure your spiritual growth in inches, how many inches have you grown in the last three to four years?
How much taller are you standing today spiritually from where you were last year?
What does growth and maturity look like? I think this story defines it for us.
A group of women who were studying the Bible together were puzzled by the words of Malachi 3:3: "He shall sit as a refiner and purifier of silver" (KJV). One of the ladies decided to call a silversmith to see if he could explain. That week she visited a silversmith and asked him to explain the process of refining silver. After he described the process, she asked, "Do you sit while the work of refining is going on?"
"Oh yes," he replied. "I must sit with my eye steadily fixed on the furnace. For if the time necessary for refining be exceeded in the slightest degree, the silver is sure to be injured."
At once she saw the beauty and comfort of the expression, He shall sit as a refiner and purifier of silver. As the lady was leaving the shop, the silversmith called her back with one more piece of information. "I only know when the process of purifying is complete by seeing my own image reflected in the silver."
As Joseph Exell explains:
"Christ sees it needful to put His children into the furnace, but He is seated by the side of it, His eye is steadily on the work of purifying, and His wisdom and love are both engaged in the best manner for them. Their trials do not come at random. When Christ's image is reflected in us, His work of purifying is accomplished."