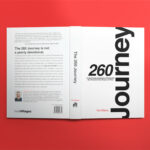 Day 233
Today's Reading: 1 John 3
One of the greatest thrills for any violinist is to play a Stradivarius. Named for their creator, Antonio Stradivari, who meticulously handcrafted these rare violins, which produce an amazing sound. So you can imagine the excitement of acclaimed British violinist Peter Cropper when, in 1981, London's Royal Academy of Music offered him a 258-year-old Stradivarius to play during a series of concerts.
But then the unimaginable happened. As Cropper walked onto the stage during a concert, he tripped and fell on the violin, breaking off the neck. Forget being embarrassed—he'd just destroyed a priceless masterpiece!
Cropper was inconsolable about what he'd done and vowed to do whatever he could to make it right. He took the violin to a master craftsman in the vain hope that he might be able to fix it. A miracle happened, and the craftsman was able to repair it. In fact, he repaired it so perfectly that the break was undetectable—and the sound was exquisite.
The Academy was gracious enough to allow him to continue using the rare instrument. And for the remainder of the concert series, as Cropper played, he was reminded of the fact that what he once thought irreparably damaged had been fully restored by the hand of a Master craftsman.
Our lives are in continual repair by the Master. That repair work has a name: sanctification. And one day, these broken lives will be a Stradivarius to God. Sanctification is what happens between now and know, between being born again and Jesus' coming again.
Here's what 1 John 3 says about now and know: "Beloved, now we are children of God, and it has not appeared as yet what we will be. We know that when He appears, we will be like Him, because we will see Him just as He is"(verse 2).
Now is the condition we are in presently. The broken violin. Broken by sin.
The Know—that's the end when all the repairs are done, and we will be like Jesus.
In between? That's the repair process called sanctification. We can compare the process of sanctification to an iceberg, which is almost 90 percent underwater. As the sun shines on the iceberg, the exposed part melts, moving the lower part upward. In the same way, we are usually aware of only a small part of our sinfulness and need, which is all we can deal with at any one time. However, as the light of God's work in our lives changes us in the areas we know about, we become aware of new areas needing His work.
So put simply, sanctification is God's continual working on me, getting me closer to looking like Jesus. It's a good work, but it isn't an easy work. As D. L. Moody once said, "I've had more trouble with D. L. Moody than any other man I know."
Devotional writer of the classic My Utmost for His Highest, Oswald Chambers, said this about sanctification: "[sanctification] will cause an intense narrowing of all our interests on earth, and an immense broadening of all our interests in God. Sanctification means intense concentration on God's point of view. It means every power of body, soul, and spirit chained and kept for God's purpose only."
And F. F. Bruce speaks about the work of sanctification between now and know as imperative: "Those who have been justified are now being sanctified; those who have no experience of present sanctification have no reason to suppose they have been justified."
Nineteenth-century writer J. C. Ryle even takes it to a new level when he says: "The faith which has not a sanctifying influence on the character is no better than the faith of devils. It is a 'dead faith, because it is alone.'"
My favorite book of C. S. Lewis's Chronicles of Narnia series has always been The Voyage of the Dawn Treader. At one point in the book, the irritating antagonist Eustace Scrubb turns into a dragon because of his greed. But later, we see Aslan, the lion, change him back to a boy. It is one of the most moving pieces of the Lewis stories—it literally made me cry. It is the perfect description of sanctification—the picture of the Lion of Judah scrapping those darn dragon scales off of us, making us like children again. It's a powerful description between now and know:
"One night, Eustace the dragon met a mysterious lion. The lion challenged him to "undress" to try to take off his dragon skin. He managed to peel off a layer but found he was still a dragon underneath. He tried repeatedly but made no further progress. The lion finally said: "You will have to let me undress you."
"I was afraid of his claws, I can tell you, but I was pretty nearly desperate now. So I just lay flat down on my back to let him do it. The very first tear he made was so deep that I thought it had gone right into my heart. And when he had begun pulling the skin off, it hurt worse than anything I've ever felt. . . . Well, he peeled the beastly stuff right off—just as I thought I had done it myself the other three times, only they hadn't hurt—and there it was lying on the grass: only ever so much thicker, and darker, and more knobbly-looking than the others had been. And there was I as smooth and soft as a peeled switch and smaller than I had been . . . I had turned into a boy again."
Sanctification is more than Christ's work for us. It is also the Spirit's work in us right now. And when that work is done, we know . . . we will be His Stradivarius.