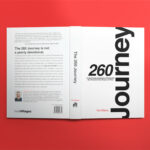 Day 45
Today's Reading: Luke 1
Change is hard for those who have been doing the same thing for a long time. We see that truth in today's reading about an older couple who are about to have their world turned upside down—all because they prayed something when they were young and it didn't get answered until they were old.
It's the story of Elizabeth and Zacharias, cast members in God's story. They were about to discover their why in life. Let's read this passage from Luke 1:5-7:
In the days of Herod, king of Judea, there was a priest named Zacharias, of the division of Abijah; and he had a wife from the daughters of Aaron, and her name was Elizabeth. They were both righteous in the sight of God, walking blamelessly in all the commandments and requirements of the Lord. But they had no child, because Elizabeth was barren, and they were both advanced in years.
That's just a kind way of saying they were old, although we don't know how old. And yet notice something ageless that happened to Zechariah—he was faithful. And faithfulness is always rewarded by God. Let's read the passage together—and notice how boring it is on how he was led to the spot where God showed up.
Now it happened that while he was performing his priestly service before God in the appointed order of his division, according to the custom of the priestly office, he was chosen by lot to enter the temple of the Lord and burn incense.
And the whole multitude of the people were in prayer outside at the hour of the incense offering. And an angel of the Lord appeared to him, standing to the right of the altar of incense. Zacharias was troubled when he saw the angel, and fear gripped him. But the angel said to him, "Do not be afraid, Zacharias, for your petition has been heard, and your wife Elizabeth will bear you a son, and you will give him the name John. (Luke 1:8-13)
Don't take faithfulness lightly. God sees it as rewardable and promotable. This is amazing to me and nothing seems spiritual about this, but his name was on the list. It didn't magically appear there; he was scheduled to do the priestly service.
He wasn't led by the Holy Spirit. He didn't feel it. That day he just showed up, and guess what? God showed up too—with his destiny.
Who knows what will happen if you look at the schedule and realize this week it's your turn—and maybe something will happen to you as it did to Zacharias. The children's department put you on the schedule. A leader said you are on ushering or greeting this Sunday. Here is a thought, look at the calendar and go, believing that maybe if you show up, God will show up.
Zacharias showed up and God did show up. Don't ever take it lightly that you showing up every Sunday simply because it's on the list.
The longest standing ovation in sport's history was twenty-two minutes for Cal Ripken Jr. of the Baltimore Orioles when he beat Lou Gehrig's record for most consecutive games played in Major League Baseball. He just showed up every day for 2,632 games without taking a day off. Cal Ripken is in the hall of fame because he showed up.
What you think is routine and redundant, God calls faithful. As Hudson Taylor said, "A little thing is a little thing, but faithfulness in a little thing is a big thing."
Why did this happen when it happened? Because God's timing is perfect.
Here is what the angel told him: "Do not be afraid, Zacharias, for your petition has been heard, and your wife Elizabeth will bear you a son, and you will give him the name John" (verse 13).
After the word heard, we find a comma. Sometimes that is not simply a place for us to catch our breath and pause. Sometimes it means there is a pause in the conversation. I think it's the latter.
I think Zacharias forgot what he and Elizabeth had prayed for. It reads like the angel said, "Your prayer has been heard." Silence . . . "Elizabeth will bear you a son."
They prayed the prayer when they were young is the implication. For Elizabeth and Zacharias, the answer to their prayer was slow in coming . . . really slow.
"Your petition has been heard. You will bear a son and you will call him John." God couldn't answer their original prayer at the time they prayed, since Jesus was not born yet. The life of Jesus needed the life of John the Baptist. They were going to bring fulfillment to what Isaiah talked about. We see this from Matthew 3:3: "For this is the one referred to by Isaiah the prophet when he said, 'The voice of one crying in the wilderness, "Make ready the way of the Lord, make His paths straight!"'"
God was sending His Son. John the Baptist was needed to prepare the way. And it was the perfect time to answer the prayer of the older couple. And it all happened because Zecharias showed up, because his name was on the volunteer list that day. Go Zacharias. Go church volunteers!