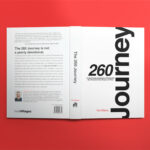 Day 134
Today's Reading: 1 Corinthians 1
Sotheby's in New York City had an Auction some years ago and sold some of the belongings of iconic people. Winston Churchill's desk, C. S. Lewis's pipe, and one sheet of Johan Sebastian Bach's music all auctioned that day. Here are three items and their final auction prices that caught my attention.
Napoleon's toothbrush sold for $21,000.
Jackie Kennedy Onassis's fake pearl necklace went for $215,000.
John F. Kennedy's wood golf clubs sold at $772,500.
These items are not worth that price on their own. Think about it. A used toothbrush, wooden golf clubs, and fake pearls. They have no intrinsic value. So, what makes these items valuable? And why did they sell for so much money? Who they belonged to.
Since they belonged to someone important, famous, or significant, their price skyrocketed.
In today's reading, the apostle Paul reminds us of our value. Listen to this verse: "In everything you were enriched in Him, in all speech and all knowledge" (1 Corinthians 1:5).
Two words from this verse are important: everything and enriched.
First, Jesus touches all areas of our lives. Paul says God has an effect on everything. Nothing is left out and nothing is off limits to God. So, when Jesus comes in, every area gets affected. Religion asks for a day a week, while a relationship with Jesus wants every day. Why every day? Because He wants everything.
Second, enriched is a money word, a financial word. It means to add value to something and make it pricey. God added value to your life. The day you became a Christian, your value skyrocketed because He started improving every area of your life. He started cleaning up the mind, the heart, the speech, the priorities—as Paul said, "In everything."
But what really makes you valuable is not that you are different, it's Who you belong to. You belong to God. That's better than JFK, Jackie O, and Napoleon. These owners were a president, a first lady, and an army general. But your Owner is the Maker of the universe. And since you belong to Him, your value has skyrocketed. Which means at auction, your worth is off the charts.
And all of this from being in Him. In Him is such an important phrase. And it is considered one of Paul's most incredible and most quoted phrases in describing a Christian.
Donald Coggan, the Archbishop of Canterbury, drew attention to the 164 occurrences of "in Christ" in Paul's writing. Listen to his defining of this phrase:
It is a strange phrase. We can scarcely find a parallel use to it in ordinary life. If, let us say, an intimate friend of Churchill who had spent many years with him and then had given a decade to the writing of his life were talking to us about that great man, he might sum up his relationship to him in a wide variety of ways. He might say that he feared him or admired him or revered him or even loved him. But he never would say, "I am a man in Churchill." It would never occur to him to use that phrase. But Paul was above everything else, "a man in Christ."
The part that I love about in him in verse 5 is that because Paul is in Christ, his speech changed, all speech. If Christianity is a heart thing, then it is a speech thing. When you read 1 Corinthians, Paul can't stop talking about Jesus. Just look at the first nine verses. I will help you by emphasizing a few words so you can see a pattern.
Paul, called as an apostle of Jesus Christ by the will of God, and Sosthenes our brother, to the church of God which is at Corinth, to those who have been sanctified in Christ Jesus, saints by calling, with all who in every place call on the name of our Lord Jesus Christ, their Lord and ours: Grace to you and peace from God our Father and the Lord Jesus Christ. I thank my God always concerning you for the grace of God which was given you in Christ Jesus, that in everything you were enriched in Him, in all speech and all knowledge, even as the testimony concerning Christ was confirmed in you, so that you are not lacking in any gift, awaiting eagerly the revelation of our Lord Jesus Christ, who will also confirm you to the end, blameless in the day of our Lord Jesus Christ. God is faithful, through whom you were called into fellowship with His Son, Jesus Christ our Lord. Now I exhort you, brethren, by the name of our Lord Jesus Christ." (1 Corinthians 1:1-10, emphasis added)
Jesus is in nine out of ten of the first verses. I think Paul's speech has been affected by Jesus. He can't stop talking about Him. That's what happens when Jesus is in the heart, He changes your conversation.