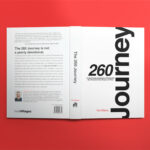 Day 55
Today's Reading: Luke 11
When it comes to giving a gift today, one of the most popular gifts, which doesn't require much thought or effort, is a gift card.
According to the National Retail Federation, about 59 percent of shoppers will purchase a gift card for friends and family. According to estimates, the typical American home has an average of $300 in unused or "unredeemed" gift cards in their house right now. These cards are often misplaced, accidentally thrown out, or only partially redeemed. Over a period of seven years in America, $41 billion in gift cards went unused. Forty-one billion dollars! Unused!
Someone was given a gift and that person never cashed it in. I am one of those people. I have a lot of gift cards that I have not used. While that's a terrible waste, there's a worse thing we can do—and that's when we do this to God's gifts and leave them unused.
God is a good gift giver.
In fact, the greatest gift God has ever given to us is the gift of the Holy Spirit, but for too many of us we never tap into the gifts and the anointing and the power that comes from the Holy Spirit. And what makes it the most terrible is how easy it is to cash in on this gift.
That's where we land today in our reading. Luke 11 is a great chapter on prayer. I want us to see an aspect of prayer in regards to the Holy Spirit that we often miss.
Let's read together what Jesus said about prayer and the Holy Spirit:
Everyone who asks, receives; and he who seeks, finds; and to him who knocks, it will be opened. Now suppose one of you fathers is asked by his son for a fish; he will not give him a snake instead of a fish, will he? Or if he is asked for an egg, he will not give him a scorpion, will he? If you then, being evil, know how to give good gifts to your children, how much more will your heavenly Father give the Holy Spirit to those who ask Him?" (Luke 11:10-13)
Two important thoughts from Jesus.
First, notice that Jesus uses fish and eggs. This is deliberate. Why is that important? Jesus did not say, "What if a son asked a father for steak and shrimp" or "What if a son asked a dad for lamb chops." Why? Those foods are luxury foods. They were not the everyday food for the common man. Fish and eggs are what everyone ate practically every day in that first-century geography. What Jesus was saying was that the Holy Spirit is not some luxury whom we need occasionally; the Holy Spirit is Someone we need every day. He is not a gift for Sundays; He is a gift for every day. We must not relegate Him to an occasional moment. You and I need the presence of the Holy Spirit with us every moment of every day.
Second, Jesus reminds us how simple it is to cash in on God's gift of the Holy Spirit. Ready for this? "How much more will your heavenly Father give the Holy Spirit to those who ask Him?" Ask. That's it. Don't let the religious tell you it's more complicated.
God gives a gift and makes that gift accessible. Why is the gift accessible? Because it isn't a luxury but a necessity.
It's an everyday ask.
Every day, ask God for you to be filled with the Holy Spirit.
The last thing I want is to have another unused gift that is available but not enjoyed.
Let's start today. Fill me, God, with the Holy Spirit. Cashing in is as simple as asking.