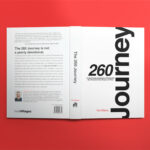 Day 79
Today's Reading: John 11
Has God ever been confusing to you? Have you ever asked Him, "What are You doing? I don't understand?"
Our 260 Journey brings us to John 11 and to one of those moments. It's the story of Lazarus—a man who went from health to sickness and from sickness to death. And here is where the confusion starts. This all happened with Jesus close enough to prevent his death but doesn't.
What makes it confusing are two things Jesus does from the outset.
Let's read the story:
A certain man was sick, Lazarus of Bethany, the village of Mary and her sister Martha. It was the Mary who anointed the Lord with ointment, and wiped His feet with her hair, whose brother Lazarus was sick. So the sisters sent word to Him, saying, "Lord, behold, he whom You love is sick." But when Jesus heard this, He said, "This sickness is not to end in death, but for the glory of God, so that the Son of God may be glorified by it." Now Jesus loved Martha and her sister and Lazarus. So when He heard that he was sick, He then stayed two days longer in the place where He was. (John 11:1-6)
Here is where Jesus becomes confusing: we are told very clearly that Lazarus is sick, and Jesus loves him. There is something in us that thinks if Jesus loves us then we have a "get out of jail" free card from pain. Nothing could be further from the truth.
C. S. Lewis was once asked, "Why do the righteous suffer?" To which he replied, "They're the only ones who can handle it."
The second confusing moment with Jesus happens when He hears about the sickness. If you love someone, and they are in desperate need, you rush to them. Not Jesus. The Bible says when He heard Lazarus was sick, He stayed where He was for two days longer. What? Seriously? No movement, Jesus?
It frustrates us when Jesus moves too slow. We want Jesus' hand, but we don't want His calendar.
I always remember in one of my frustration moments how an old church mother in Detroit reminded me of the old adage, "He may not come when you want Him, but He's always right on time." And in John 11, Jesus is going to be right on time. What is on time? Four days later and not till Lazarus stinks.
Why? Jesus says that it's so His glory can be seen. Glory is what makes God famous and stand out.
Let me take you to the tomb and why Jesus waited:
Jesus, again being deeply moved within, came to the tomb. Now it was a cave, and a stone was lying against it. Jesus said, "Remove the stone." Martha, the sister of the deceased, said to Him, "Lord, by this time there will be a stench, for he has been dead four days." (John 11:38-39)
It would have been easier for Jesus to come to sick Lazarus not to stinky-and-dead Lazarus. And here is where I want you to see as the confusion starts to get clarity:
When He had said these things, He cried out with a loud voice, "Lazarus, come forth." The man who had died came forth, bound hand and foot with wrappings, and his face was wrapped around with a cloth. Jesus said to them, "Unbind him, and let him go." Therefore many of the Jews who came to Mary, and saw what He had done, believed in Him. (John 11:43-45)
When Jesus doesn't come when you call Him, something bigger is about to happen.
What was Jesus showing them? A resurrection is better than a healing. His message to Mary and Martha was this: If I heal your brother, three people will feel good. If I resurrect your brother, many will believe. We learn from this story too that there is a divine strategy in unanswered prayer.
The account of Jesus not healing Lazarus is proof that unanswered prayer may well mean that God has something better in mind for us than we ourselves had. There are times that God waits till something stinks before He shows up. Because Lazarus was resurrected instead of being healed, many saw the glory of God and believed.
Our prayers are for our well-being when God sees bigger. That day a dead man was resurrected instead of a sick man healed so a bunch of people could be resurrected.
So when your prayer is not immediately answered and you are dealing with delay, don't doubt that He loves you. He may just be saying, "It just doesn't stink yet."