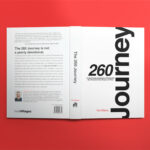 Day 90
Today's Reading: Acts 1
Dr. R.T. Kendall recalls words his mother told him once about an old saint who had great influence on his mother's life—and consequently on his. She said, "I have served the Lord for so long now that I can hardly tell the difference between a blessing and a trial."
She understood something important: that what you call a problem can really be an answer to prayer. What you think is an interruption is a catapult to your calling and dream.
Today in our 260 journey, we turn to the book of Acts. Acts 1 is about to give you a dream—and then I want you to see how it is accomplished.
Jesus said in Acts 1:8: "You will receive power when the Holy Spirit has come upon you; and you shall be My witnesses both in Jerusalem, and in all Judea and Samaria, and even to the remotest part of the earth."
Jesus said that He would release the disciples as witnesses first in Jerusalem, then in Judea and Samaria, and then to the outermost parts of the earth. Jerusalem happens immediately in Acts 2. Let's cover how part 2 of the plan is accomplished. Always remember, God is creative. And in Acts 8, God uses a strange element to cooperate with His blueprint: Philip is in Samaria and a whole city is being turned upside down.
How did they get there and how did it happen? Let's take a look with the goal that you and I will get a whole new appreciation for the tough stuff we face, or as my friend tells me, to "dignify your trial:"
Saul was in hearty agreement with putting [Stephen] to death. And on that day a great persecution began against the church in Jerusalem, and they were all scattered throughout the regions of Judea and Samaria. . . . Those who had been scattered went about preaching the word. Philip went down to the city of Samaria and began proclaiming Christ to them. (Acts 8:1, 4-5)
How is the promise fulfilled? Through persecution—or more specifically, great persecution. Believers headed to Judea and Samaria. How does God get the ball rolling to these two places? He uses attack and persecution against the church to scatter them.
What seems so bad? Scattering and persecution is literally God's agent to fulfill the mission. Here is the end of the story: "So the church throughout all Judea and Galilee and Samaria enjoyed peace, being built up; and going on in the fear of the Lord and in the comfort of the Holy Spirit, it continued to increase" (Acts 9:31).
So a promise (Acts 1:8) was fulfilled by trouble (Acts 8:1-6).
This is similar to another biblical character who suffered trials in order to fulfill God's plan.
Joseph was closer to his dream in jail than he was in Potiphar's home. He was closer as a slave to the dream he had than at home as daddy's favorite boy. As William Secker said, "If Joseph had not been Egypt's prisoner, he would have never been Egypt's governor."
Call it what you want, but all the stuff you are going through—false accusations, betrayals, being fired for no reason—all that trouble may be the catalyst to God doing something great in your life. Or as some anonymous person reminds us, "Sometimes good things fall apart, so better things can fall together."